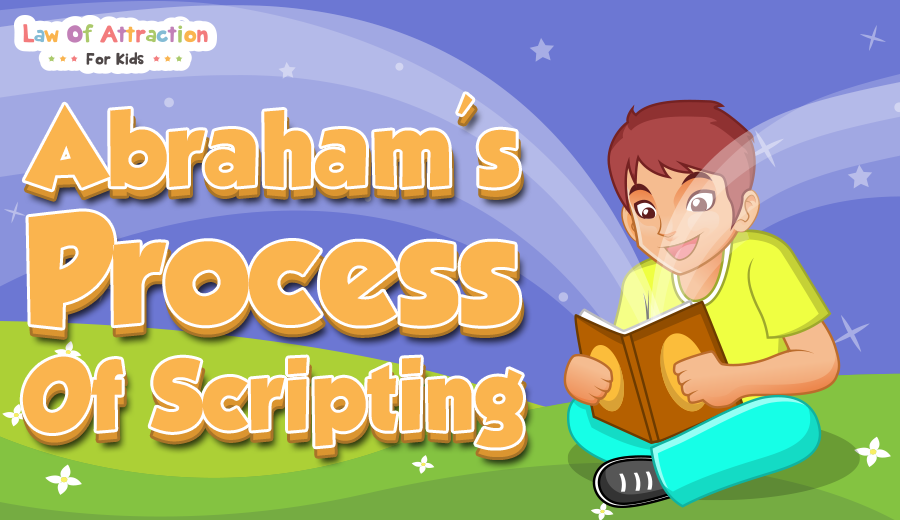 Abraham's Process of Scripting
Imagine you have a notebook that has certain magical powers—whatever you write in it comes true!  You can tell the people in your life to talk to you in a certain way, you can have all the goodies you want, you can live anywhere in the world….  You can do, be or have anything you want!  Well Abraham says that life really does work that way—they say we have complete control over our lives and it all really depends on the thoughts we offer and the way we feel.  Our thoughts are the script for the future scenes of our lives.  Abraham's process of Scripting is a great way to remember the power you hold and to practice using it in the way that will be of the most benefit to you.
To start with, this is a game to be played when you are already feeling pretty positive about life.  The reason for this is because it's about increasing detail to your dreams and desires and when you're down in the dumps, any thought of what you want just drives you deeper into negativity.  You would be focused on the absence of what you want rather than on its possibility.
Now open a fresh notebook and declare it magical or open a new text document on your computer and give it the same special powers.  You can even go another way with this—maybe it's not your notebook that is magical but your purple-inked pen!  Or there's a certain favourite spot of yours—call it Dream Headquarters.  Whenever you're in your Dream Headquarters, what you say or write or type comes true.  Hopefully you get the drift of the game by now.  Get creative!  It's up to you because it's all about having fun.
Next step is for you to be the boss and tell the universe exactly how it looks from now on.  Maybe you have a specific desire in mind that you want to go into great detail about or maybe you just want to set up a great life for yourself and outline all the different fantastic aspects of it—for example what your house looks like, what you're eating for dinner, who your friends are…  The important thing, as always, is to feel good while you're imagining this.  This is a process that will help you add greater attention to your desires and make them come into your life faster—as long as the attention you give is on their presence not their absence.  That's where your feelings, your Emotional Guidance System, come in.  Only your feelings can tell you if you are focused on the desire or the lack of it in your life.
Now that you got started, play this game as often as you like.  It will benefit you not only when you are in front of your magical notebook or word document.  It's also a great tool for gaining awareness of where your focus is going as you move around in your day.  So get scripting!