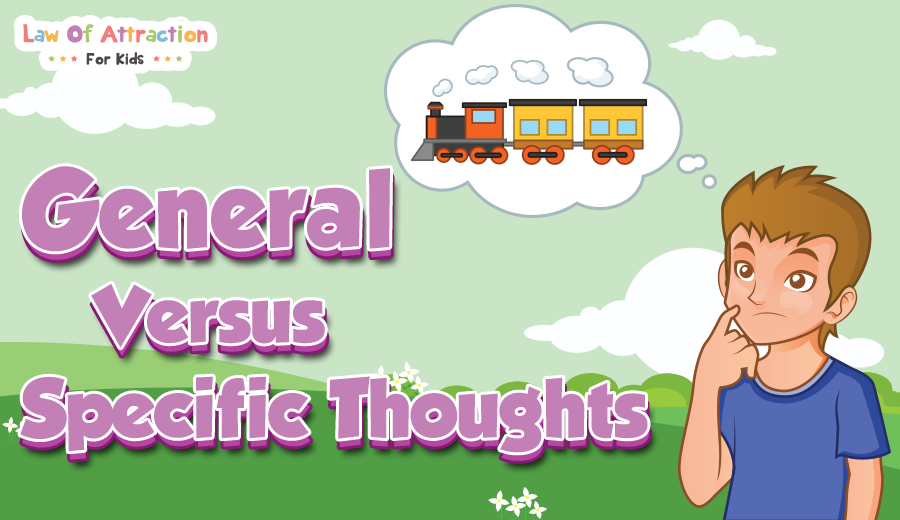 General Versus Specific Thoughts
Sometimes thinking of what you want can hurt. Let's say you share a room with your little brother and you're just totally sick of him and his booger-eating ways and wish you could have your own space. There are times when thinking of the curtains you would hang in your dream room and how you would arrange the furniture feels really exciting, but other times it just puts you in a terrible mood. The difference between these two cases is a good way of seeing the value of choosing when to get specific.
Let's rewind a little before we get to that. What is this business of being specific? People who are interested in manifestation techniques often recommend visualizing what you want in great detail. So if you want your own room, picture the colour of the walls, and how the sunlight streams in early in the morning. This is all fine advice as long as you're already excited about what you want. Then thinking about the details makes your positive feelings grow. If you just had a huge fight with your annoying little brother and then tried to concentrate on the posters you are planning to hang in your dream room, all you will do is get more annoyed.
So there are helpful times to get specific about what you want and less helpful times. But don't worry, there is an approach you can take that will help with manifestation even when you are frustrated or not quite excited yet. Abraham calls it "going general". In those situations, instead of thinking of what kind of desk you want in your room, think of some general feelings that you associate with having a room of your own. Maybe it's freedom or hope or peace. Whatever it is, focusing on the feeling will be easier than going into detail. And if you go general in a focused and consistent enough way, after a few moments, more detailed thoughts of what you want will come into your mind naturally.
The way Abraham explains why thinking of desires in detail can be challenging is by comparing the momentum of thoughts to that of a moving train. When you are going general about what you want, your thoughts are like a train that is leaving the station. It is quite slow and if you wanted to, you could still jump onto it. But as soon as the specifics of what you want start joining the visualization party, this makes the momentum of your thoughts speed up. By now the train has left the station and is going at full speed. I don't need to tell you that it is therefore much more difficult to jump onto.
To recap, the nice thing about general positive thoughts is that they are relatively easy to activate and so are safe bet for starting a visualization session. You can avoid the frustration of trying to get onto a train of thoughts that is too specific and fast moving by take that step back and starting off gradually. A train that is just beginning to move may take longer to get to its destination than a train that is already going at full speed, but it will get there. The important thing is to get on!