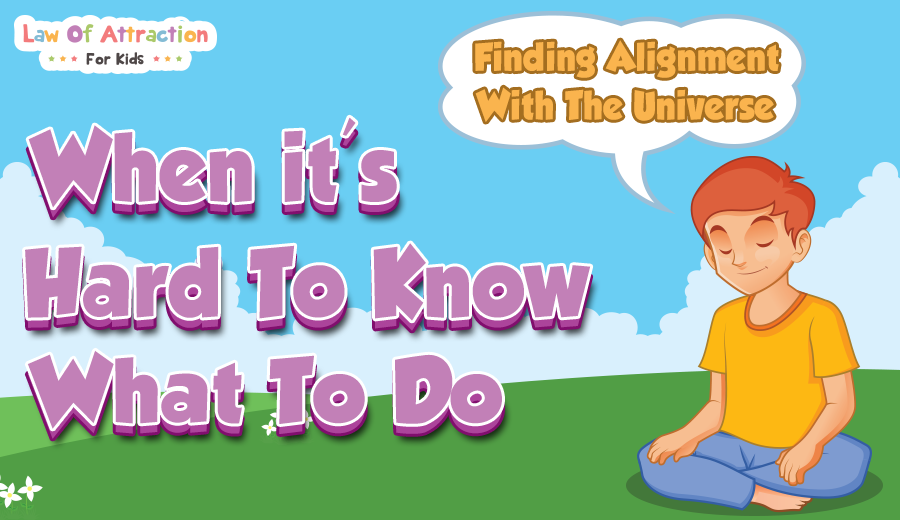 When It's Hard to Know What to Do
An important part of being a conscious creator is trusting your intuition and feelings and letting them guide you. This is supposed to take you to the experiences that you want. There is just one problem with this approach. You might be willing to listen to your feelings but sometimes you don't know how you feel or what your intuition is trying to tell you. Is it telling you to do your homework or to take a break and call your best friend? Would it feel better to go to that birthday party or not? We'll talk about potential solutions but first let's try to figure out what the uncertainty means.
Abraham says that mental, vibrational work needs to come first, before physical work. So uncertainty can be taken as a sign that all the necessary internal lining up has not taken place and now you're trying to fix the lack of alignment with action. Fix here doesn't mean that you are trying to resolve a specific situation. It refers to a general decision-making process that is not working well due to the lack of alignment. Because the fact is that when you feel good, there are no questions about what you should do. Everything flows effortlessly, almost automatically. You don't even think to ask yourself what to do next. You have too many ideas of activities! Think about it. When you're feeling good, do you waste any time agonizing about whether to go to that party or not? No. Either you feel like meeting other people and feel confident about being being accepted and having a good time and so you go. Or you are perfectly happy sitting in your room and reading and so you don't torture yourself with thoughts of what you are missing. In either case, the decision is made with clarity and no regret.
So the cure to uncertainty during the decision-making phase is to practice alignment and to practice it long before any action needs to be taken. The question then is how to increase alignment rather than specifically how to become a better decision maker. In fact, to feel good or at least to feel better is the solution to every problem.
We have many, many processes for feeling better. One of the most effective, one that we want to remind you about, is the morning process. It's all about boosting alignment early, way before any action needs to be taken, so that you are ready when the time comes. When you build up the positive momentum of good feelings first thing in the morning, the rest of the day can go by almost on autopilot without you having to waste a single moment wondering which way is the right one. A second process to remember is meditation. It's one of the best ways to press the reset button on your day aside from taking a nap. An effective meditation can then be followed by focusing on good-feeling-general thoughts, much like you would after waking up when doing the morning process. So perhaps you will agree that the most important decision ultimately is to let your good feelings grow within you as often and as early in your day as possible.