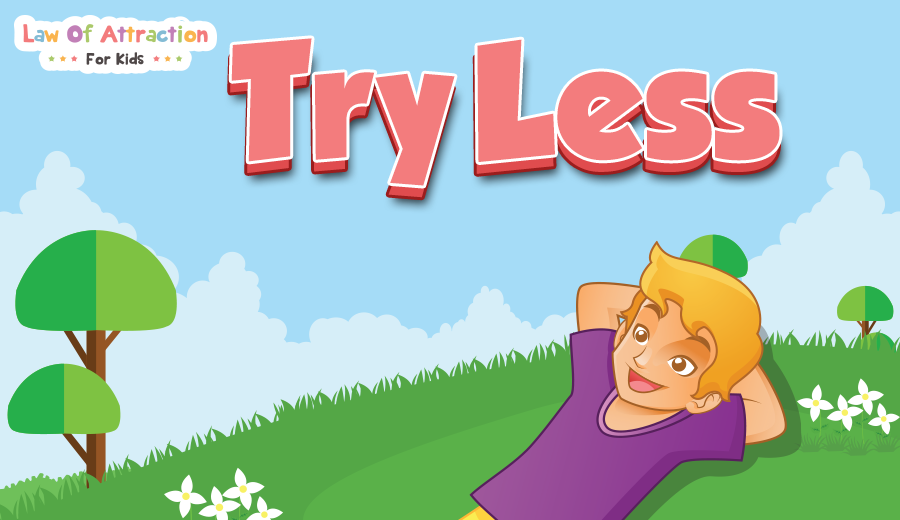 The manifestation world is one of the few fields where you will be encouraged to do less instead of more. You have all kinds of options of activities, processes, techniques to put into practice for feeling better and getting closer to your desires but sometimes (often), the best you can do is… Nothing at all.
The tricky thing about doing process after process and trying really hard to implement the principles of manifestation is that this behaviour can mask counterproductive patterns of thought. All the effort could be pushing away the very result you desire. Let's think about this for a second. What comes to mind when you think of effort? It's a feeling of pushing against resistance in order to get somewhere.
This is unproductive for two reasons in the context of the law of attraction. Abraham says that you will manifest the result you desire when it is so real to you in its vibration form that you don't care whether it is present in physical form or not. It has to feel natural, comfortable, easy. Struggle has no place in this kind of state of mind. The second point can also be linked back to what Abraham said. The goal has to feel like it has already been achieved. When something is already attained, there is no need to go anywhere. You have already reached your destination. The tension between where you are and where you want to be disappears. In other words, there is no more effort.
Does this mean that you should just give up any and every process we have talked about? No. But, as with so much else when it comes to directing your manifestation powers, it's about how you feel. Are you treating the process like it's leftover spinach on your plate? Like it's something to power through so that you can get to the good part—dessert! Or do you have a looser approach? Are you looking forward to having fun and playing some games (because that's what processes are supposed to be).
If you find yourself scratching your head trying to come up with something to feel grateful for, maybe you just need to go outside and be lazy in the sun or take a long bath and come back feeling so relaxed and good that you couldn't stop appreciation from welling up inside you even if you wanted to. Well-being is so much our natural state that it isn't something that needs to be created. All we have to do is get out of our own way. Often that simply means giving up the effort and tension of chasing after our goals, even if that is done with a manifestation process as an excuse.
Relaxing and trying less doesn't mean going into a coma in front of the TV. Just the simple decision to stop trying can give you a surge of energy and ideas for all kinds of new activities. So then the difference between work and play can come down entirely to attitude. But, really, how much encouragement do you actually need to try less?