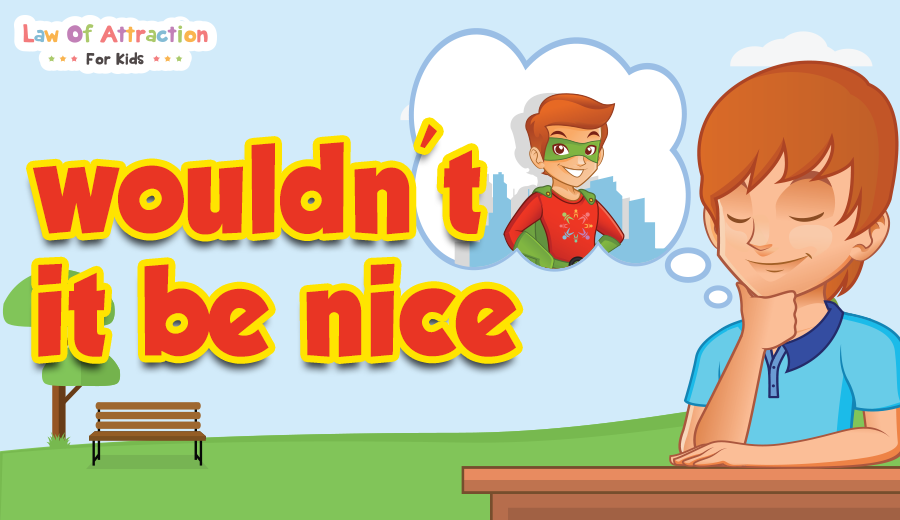 It's so much fun to be excited about possibilities.  Your mom mentions that you guys might go on a bike ride next weekend.  It's not for sure, but it's enough to spark your imagination.  You can feel the sun on your back, smell the wildflowers, see the endless expanse of hills ahead.  You're already making plans for all the things you and your friends will do once you reach the picnic spot.  The feeling winds you up and you could just explode from the joy of it all.  You even feel excited about things that have nothing to do with the bike ride.  It's like a chain reaction and it all started with five simple words: wouldn't it be nice if…?
The planning is as much fun as the actual activity so why not turn it into the activity?  That's what the Wouldn't It Be Nice If Game does.  You can play it a couple of different ways.  Let your mind drift over various areas of your life and think about the little (or big) wishes you have for them.  You might go from imagining how nice it would be to have new curtains to pretending you scored the winning goal in your team's next soccer game.  Starting small is fine—maybe even easier—because pretty soon you will find your enthusiasm snowballing and carrying you to bigger and bigger dreams.
Another way to play the game is to focus on a particular dream you have and poke around in there.  Let's take the soccer example.  There are lots of options, but here too you might want to start small, with the most believable possibilities, something like: "Wouldn't it be nice if I felt extra springy on game day?".  You can ease up to "Wouldn't it be nice if everyone was passing to me?".  A couple more of these and it will feel totally natural to daydream about scoring that final goal.  The score is tied.  Time is running out.  By some miracle you break away from the defence, kick the ball with all your strength and stare in amazement as it soars over everyone's heads and hits the back of the net!
There are several reasons why this game is so good at loosening you up.  When you play it, your mind, like the soccer ball, soars over anything that it would normally consider an obstacle.  Obstacles don't exist in wishful thinking!  Another cool thing is that this game takes you out of the equation.  You don't have to figure out how to get your desire.  You aren't weighed down by the amount of work you think it's going to take.  All you have to do is enjoy your dream.  This game also gets you thinking of scenarios you otherwise wouldn't consider.  What happens when we pay too much attention to obstacles and strategies is that we automatically limit our desires.  We want only what we think is possible and easy to attain.  When perceived reality becomes irrelevant, suddenly new worlds open up, worlds we didn't even know existed.  So, wouldn't it be nice if you gave this game a try?  Yes it would!