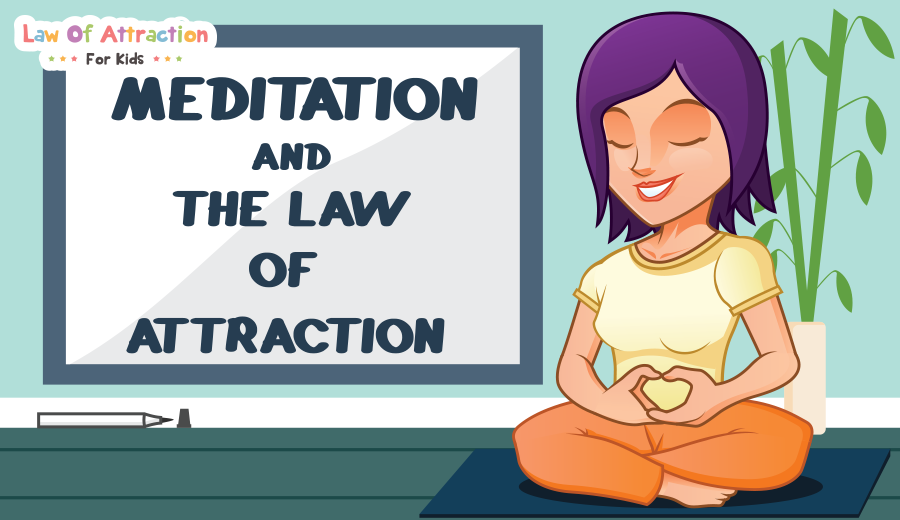 Meditation and the Law of Attraction
If you know a little about meditation, right now you are picturing a monk-type person sitting under a tree, legs crossed, eyes closed, fingers in an interesting position.  That's certainly one way of doing it.  People have been meditating for thousands and thousands of years so lots of rituals have developed.  Today all kinds of people meditate, however—religious and nonreligious.  This means there is a huge variety of meditation types to explore.  We are not going to do that, but if it's a subject that interests you, there is plenty of reading material available, even for children.
So how do you meditate?  For our purposes, meditation is about pulling attention away from your usual thoughts.  Start by finding a quiet spot where no one is likely to disturb you and take a seat.  You can also meditate lying down, but this makes the risk of falling asleep greater.  You're now ready to close your eyes and start.  But start what exactly?  It can be easier not to follow normal patterns of thought if you focus on something neutral.  You don't want to focus on something that excites or irritates you because that will make your thoughts go into overdrive.  Concentrating on your breathing is a good option.  If at the same time you deepen your breaths, it will have a calming effect and your thoughts will be easier to handle.
Abraham recommends meditating 10 to 15 minutes every day.  Maybe set a fixed time, a little space in the day when you know you will get a break from your usual thoughts.  This will help turn meditation into a habit.  Taking a timer when you go for your quiet time can also be handy.  It prevents you from having to look at your watch every few minutes and potentially gettting distracted.
Great.  We talked about how to meditate but none of that matters one iota if you don't actually do it.  Here's the part where I convince you to put it into practice.  Your thoughts create your reality so it makes sense to try to gain some control over them.  But for that to even be an option, you need to be aware of them first.  That's where meditation comes in.  It makes you more sensitive to the traffic in your mind and puts the power back into your hands so you can decide whether to continue with a certain train of thoughts or change it.
The second reason why you will want to give meditation a try is simply because it feels good.  Taking a break from all your usual thoughts means you are avoiding the negative mental patterns too.  Without any resistant thoughts holding you back, your natural wellbeing is allowed to flow.  This can feel like relaxation, freedom, bliss!  Isn't that a good thing to know?  We are designed to be happy—it's our default mode.  You literally don't have to do anything to be happy and attract all kinds of circumstances that help perpetuate the feeling.  So, what are you waiting for?  Go find a tree!