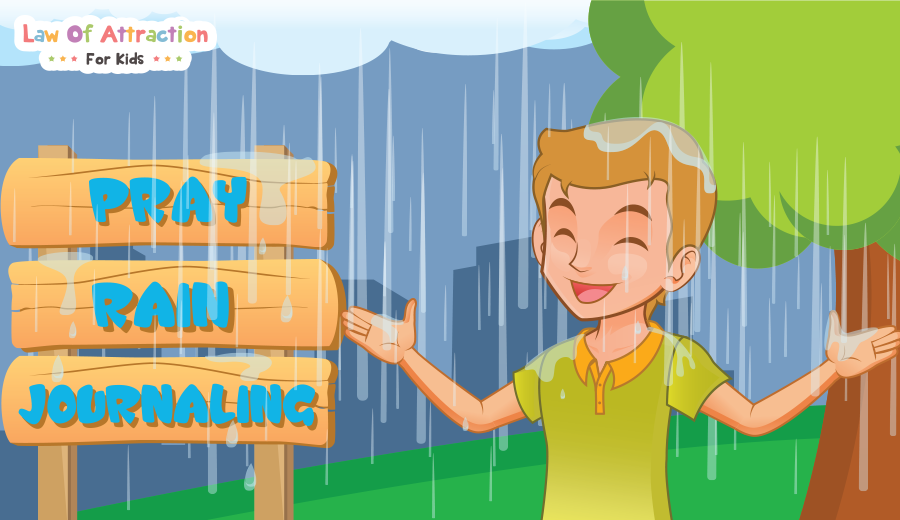 Once upon a time in New Mexico, there was a drought.  Most people would feel hopeless in such a situation, but not the hero of this story, a Native American man called David.  What did he do?  Nothing.  Absolutely nothing.  Given his heritage, you might guess that David did a rain dance.  Instead, he sat down and stayed absolutely still.  Eventually the rains returned.
The truth is, though on the outside David did nothing, on the inside, he did everything.  He heard the grumblings of the storm, saw the heavy clouds in the sky, felt the static in the air and finally, finally, watched in gratitude as the first raindrops came down.  He felt the water soak through his clothes, smelled the fragrance released by the parched earth, and saw life return to the crops and vegetation.  He didn't have to wait for the rains to return, because for him they already had.  David was not praying for rain.  He was praying rain.
This is the story behind the name of the process called Pray Rain Journaling, coined by Jeanette Maw, law of attraction coach.
Enough stories.  Let's get down to it.  How do you Pray Rain Journal?  Well, first of all you need a journal, one that feels nice to hold, look at, write in, basically one that inspires you.  And what you're going to do is that for the next however many days—where the number of days depends on the number of pages in your journal—you are going to fill one page a day, everyday.
Ok great.  But what should you write about?  Anything really.  Let me explain.  This depends on you.  What do you want?  What are your goals?  Your dreams, wishes, hopes?  Choose a big, juicy one and write about that.  The important thing is for you to write about it as though it has already happened.
There are a couple of ways to do this.  You can write specifically about how the dream plays a part in your day.  Suppose your journal is about having a treehouse and on that day a friend happens to be visiting you.  What does that look like when your are living your dream?  You can write about how excited you are to show it to your friend, the bright blue bird you see on your way up, how hilarious it is when one of you almost knocks a bottle out of the treehouse…  You get the drift.
Or you can think about your dream outside the context of your day.  What are the aspects of it that make you happy anytime you think about it?  How amazing the woody smell of the treehouse is maybe, or how much you enjoy reading up there, or how safe it feels…
There are other ways to fill up your journal of course.  In fact, find your own ways of making the dream real to you every day.  After all it's your dream, your journal!  According to legend, by the time you reach the end of the notebook, your dream will have come true or be so close you can taste it.